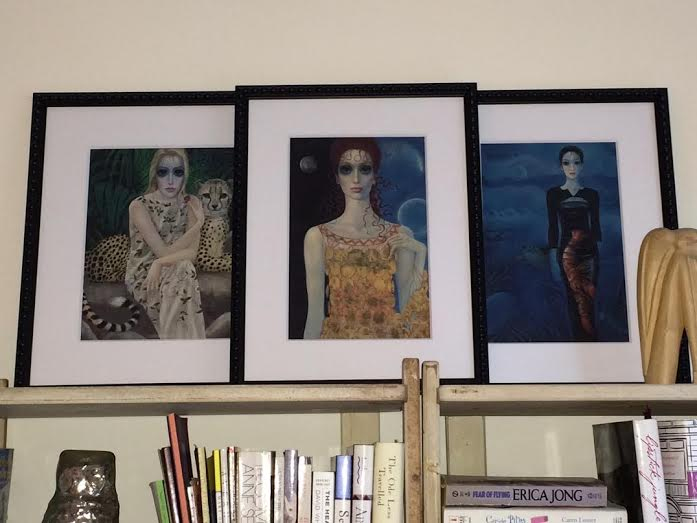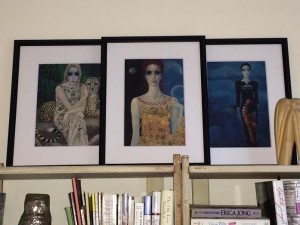 From the moment I saw director Tim Burton talk about Big Eyes on The Daily Show, I became almost obsessed with seeing it. I wasn't sure why. I had never seen a film he directed because I was simply never compelled to (I did see 9, which he produced).
Unquestionably my fascination was partly because I was drawn to the art of Margaret Keane, although I never could have put her name to it. All I knew was that her work was familiar. I had a couple of her prints in my bedroom growing up in the 1960s when they were all the rage. Those big eyes spoke to me even then.
But why was this film working on me, almost gnawing at me?
A glance at the movie's summary begins to explain its appeal to the artist and the feminist in me:
A drama about the awakening of the painter Margaret Keane, her phenomenal success in the 1950s, and the subsequent legal difficulties she had with her husband, who claimed credit for her works in the 1960s.
I saw the movie four days after it opened, on my birthday. I applauded at the end and no one else in the New York City theater followed suit. But there were tears running down my cheeks and I didn't care. Margaret Keane had triumphed.
Here's what she represents: All of us who are "in" our art and who stay "in" our art despite every obstacle. All of us who stand up to people who try to mess with our art, our very identity, if you will. All of us who paint but are not Van Gogh, who make music but are not Bach, who write but are not Shakespeare.
Keane's work has spoken and continues to speak to many. She is still creating art in her 80s. There is a gallery displaying her work in San Francisco. Popular but not highbrow, it reaches my soul. Hers is a legacy of outsized pupils that pull us in and make us wonder what is going on behind them. I could easily go broke buying up her collection.
Amy Adams' portrayal of Keane is powerful. She's likeable and easy on the eyes. She elicits empathy, but also utter frustration as her egomaniacal husband controls her for years and we wonder why she doesn't speak up. We even get angry when the lie of who has created the waifs with the big eyes snowballs and her daughter is caught up in the deception that could threaten the family's livelihood.
The shots of North Beach (in San Francisco) and the fashions and furniture of the time period provide an aesthetically pleasing backdrop to the disturbing events unfolding on the screen. It is so well done.
The story has been swirling around in my head as I keep an eye on the award nominations this season. I was thrilled to see Adams win the Golden Globe for best performance by an actress in a motion picture – comedy or musical, but not so thrilled to hear the questions put to her in the press room afterwards. Did no one see the movie? Disappointing, as it lent itself to some meaningful questions, especially given Adams has a daughter.
Right after seeing the movie I was so taken with the story that I started doing some research on Keane. As I read the information on her website, I came across a line about how she had been commissioned to paint some designer dresses for a fashion layout in The New York Times Magazine in 1999. Wait, what? Why does that seem familiar?
I was sitting at my desk staring at my computer when suddenly it hit me. I looked to the left and up at the top of my seven-foot high bookshelves. There, leaning against the wall, were three framed prints of women with big eyes. I had ripped them out of The New York Times Magazine back then and loved them so much I'd had them professionally framed. They have had a prominent place in my home since then. I had no idea they were by Keane.
But wow, in retrospect, I am nothing if not consistent in my taste.
When I wrote a Facebook post about seeing the movie and noting that a piece featuring a little girl in a blue dress (The First Grail) was so familiar it must have been in my bedroom, my cousin chimed in and said that actually she has that print; it had originally hung in my grandmother's home. Ah, it all came rushing back. Yes, that's how I knew it. What a great memory from my childhood. I had seen it when visiting Gram.
I feel like my life is intertwined with Margaret Keane's in the most meaningful of ways. I get the obsession now.
There is a new painting I saw on her site called A Little Bird Told Me. I want it.
The obsession continues.