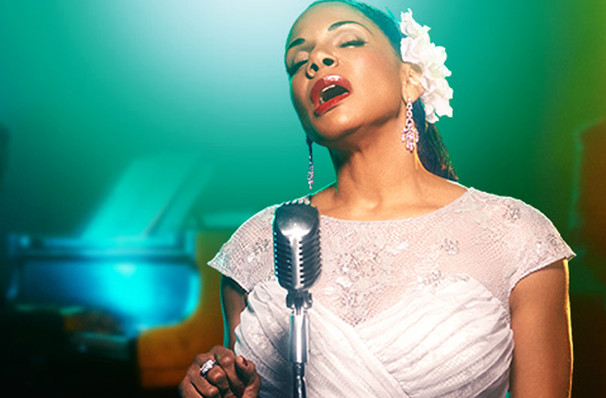 Billie Holiday is the artist you turn to when you want to be alone with your pain. Her sadness permeates her music. That voice, so layered in sweetness and sorrow.
I knew this when my friend Susan and I decided to go see the acclaimed Lady Day at Emerson's Bar and Grill on Broadway recently. What I didn't know was we'd be seeing it in the same week the beloved Robin Williams would take his own life and one where the town of Ferguson, Mo., would erupt in racial tension after the shooting by a police officer of an unarmed African-American man.
Talk about context.
For those unfamiliar with the play, Tony Award-winning Audra McDonald comes on the scene in a little nightclub as an intoxicated Billie Holiday who continues drinking through the entire performance. According to the Playbill, Lanie Robertson wrote the play because in 1959 a boyfriend of hers saw Holiday in a little North Philadelphia dive about three months before she died. She staggered through her 10- or 12-song set.
"That image of the world's greatest jazz singer being so undervalued at the end of her life and career was an image that has always haunted me," Robertson writes. "Writing [the play] was an attempt to rid myself of that ghost."
Her creation is haunting.
McDonald has learned to make her voice eerily similar to Holiday's. Close your eyes in that theatre and you'd be hard-pressed to tell the difference. The songs cast a spell. But what seared my soul were the stories, told in rambling dialogue, sometimes with tipsy humor so inappropriate to the seriousness of the subject it could only elicit nervous laughter from a packed house. Rape at age 10. Set out to turn tricks at age 14 and later jailed for prostitution. McDonald's version of Holiday almost coos when she regales the audience with these stories.
It is a moment she experiences with band leader Artie Shaw that will stay with me for as long as I draw breath. When Billie is not allowed to eat in the dining room of the club where they'll be playing because she's black, Shaw and the rest of the band eat in the hot kitchen with her in solidarity. But then she inquires about a restroom for blacks and she is told by the white hostess that there isn't one for black women. The black employees there are all men. The telling of this story with its back-and-forth, power-charged dialogue is excruciating. The white woman tells Billie she didn't want her there anyway. Billie ends up urinating on the floor right there in front of her.
I am horrified writing this. Horrified. I can't stomach it. It is our history made real. Too real.
I can only imagine how it feels for McDonald to deliver these alternately vulgar and poignant lines night after night, week after week. It's got to be the equivalent of years on the couch, exorcising demons and sending up rebukes to the ether for unfathomable injustices to a people. I was acutely aware of what was happening in Ferguson as I sat in my seat and watched this woman channel Billie Holiday's talent and pain.
I was also fully cognizant before even walking through the door that I would be seeing a play about an addict whose creative gifts thrilled so many. Having spent the 48 hours after Robin Williams' death gorging myself on his standup shows, I suppose I was ripe for entertainment that would indulge my need to feel. At one point the woman next to me stifled a sob and I took a deep breath so I wouldn't go there with her. I needed to hear every word of this play. Listen now, react later.
There is so much still to say about addiction and about racism. We've made strides, but thanks in part to social media we're all privy to the ignorance and hate that often bubbles up around these conversations.
Williams' death spawned all kinds of dialogue around depression and brought a lot of awareness to its pervasiveness. I worry about quite a few people in my life, the ones who are open about their challenges with depression and the ones who in Facebook posts seem a little too eager to get to that glass of wine (or two) at the end of the day.
When it comes to race, it feels like the conversations keep getting harder. Our reactions are knee-jerk. We take a side before the facts are in. The kid was an angel. The kid was a devil. Police officers are never wrong. Police officers are always wrong. Nuance be damned.
It's disturbing. I quietly take it all in. And wait.
Off and on, I let Billie Holiday's voice drip from my speakers.