Facing the stage in the second floor auditorium at the National September 11 Memorial and Museum, I was in about the fourth row on the far right end. My two friends were seated to my left.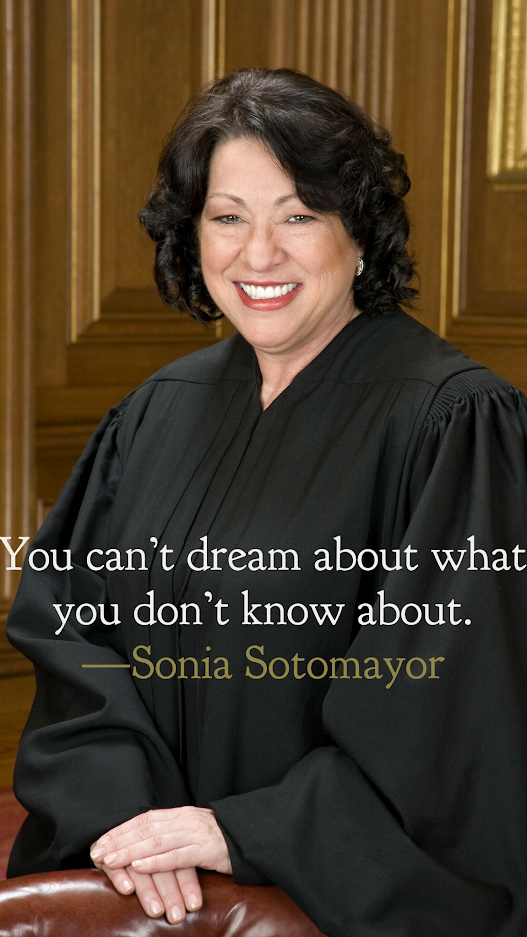 So when Supreme Court Justice Sonia Sotomayor decided to roam the crowd while answering questions of high school students in the audience and she started making her way up the steps to where I was sitting, I was mesmerized. When she got to me and extended her hand, I hoped she couldn't see I was misty-eyed.
After me, she went for my friend's hand, then the next, but for a quick moment an exuberant man almost interrupted. He caught himself and pulled back, but then the Justice reached out her hand to him.
"You're wonderful," he said softly and – was I sensing this? — lovingly. He was smitten.
Imagine that. She smiled and then just kept navigating questions.
I had no idea what I had signed up for when I suggested to friends we go see Sotomayor talk about her 9/11 experience. We have gone to other events there and enjoyed intelligent, thought-provoking discussions. So why not go be in the room with a Supreme Court Justice? It was a bonus that when the day dawned I realized this would be how we'd be spending our International Women's Day.
Sotomayor spoke about her experience that horrific September day in 2001. At the time she was sitting as a judge on the United States Court of Appeals for the Second Circuit in lower Manhattan, but she was in Midtown when she heard a plane had flown into one of the World Trade Center towers. Once things escalated, she spent time trying to get information about the whereabouts of people she worked with to make sure everyone was safe.
Interestingly, though, she didn't dwell on the horror of the day in this talk. She transitioned to what it meant in terms of how unified people became, how the world and remote parts of the country where people don't know anything about New York saw the very best of us emerge in a profoundly sad situation that would forever change us.
While that was a refreshing reminder to the bulk of us there who had lived through it, by far the most revelatory part of Sotomayor's command of that room followed in the Q&A. The museum has a student ambassador program and the participants had been told to prepare questions for the Justice. Each query was thoughtful, but the one that bowled me over was, and I paraphrase, this:
How can we recapture that feeling of unity that happened after September 11th?
Pow.
Remember, today's high school students were not even born yet when this terrorist attack occurred. Their frame of reference is laid against the divisive climate they're experiencing now. It filled me with dismay to hear this young man's question, but then, as I started to digest what I was hearing, I felt like it was a call to action. How can I be of service in bridging this divide?
It was a jolt for this 57-year-old, who has struggled mightily with finding meaning in what is happening in our country now. The Justice, with grace and warmth, answered this and the other questions with anecdotes from her own experiences. I learned, and learned some more.
Another theme that particularly resonated with me was the idea of representation and how important it is to see someone that looks like us in places we might aspire to go. Sotomayor lights up when she talks about this. She told us that the day before she had been honored at the New York City Bar, where they unveiled her portrait. In her remarks from the podium there, she spoke of the fact that the portrait would be hung in an empty space across from where she was standing.
"I am absolutely floored by that," said the native of The Bronx as she addressed that room.
At the New York City Bar event she had also taken questions while she walked the room and shook hands. Several of those who stood to address her expressed how inspired they were to have someone like themselves being honored in that way. They wanted advice on how to keep going, how to overcome obstacles.
"Don't ever give up," Sotomayor said
It was like she was casting bursts of light in every direction. In her earlier remarks she had said, "You can't dream about what you don't know about."
She sang a similar refrain to some of the student ambassadors in the museum. Maybe that's why when we were leaving the event I walked out of the room a bit choked up. Just moments before we exited I had been trying to stay present as my mind swirled with thoughts like this – Has Sonia Sotomayor just called me to dig deeper into my own purpose in this particular moment?
I think she has.
On her way back down the aisle the Supreme Court Justice reached over and shook my hand again, perhaps not remembering that she already had. But I took it as a sort of divine confirmation that this was a call I needed to heed.