WASHINGTON, D.C. — As I write this, the death count in the United States due to COVID-19 is nearing 700,000.
We're so far in, so numb, you'll keep reading and the gravity of it will likely not land.
But if I show you the photos and videos I shot on my phone of nearly that many white flags carefully placed in the expansive grass in the shadow of the Washington Monument in our nation's capital, it'll land, all right.
Pow.
Your eyes will widen. It will give you pause. Because it must.
Credit artist Suzanne Brennan Firstenberg (and her extraordinary team of volunteers) for giving us art that makes us brace for impact. The eyes can't even take it all in, this exhibition called In America: Remember.
Because I got off the metro at the Smithsonian stop, I made my approach from the west side of the Washington Monument, meaning I had to walk up the hill to its base in order to access the view I was after. There, surrounded by American flags, I gazed at the whiteness before me with the Lincoln Memorial not too far in the distance.
That first taste went down easy. I had a wide perspective and, while it made me catch my breath, the white flags seemed to meld into one stark blanket under a mottled gray sky.
My eyes swept the landscape, trying to figure out how to get down to the installation itself. I had a mission. Because the website and mapping system for In America was so clear and accessible, I knew the white flag bearing my father's name and the message I wrote was in section 77. From the diagram I could see its proximity to the Washington Monument, even what side of the section it was on.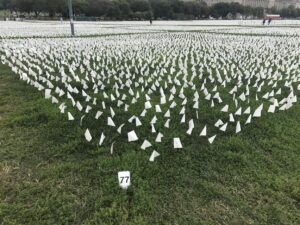 As I made my way down to the exhibit grass, I met Snow, a photographer who is traveling the country. She had taken a bus down from New York the day before when she heard the exhibit would only be there until Oct. 3. I told her I had taken a train down that morning.
Her intent was to see, honor, experience, photograph. The dead. The loved ones. The others like her who wanted to pay respects but didn't know anyone represented by a flag.
I told her I was there to see the flag for my father, John Colasurdo, and that I was trying to assess the best way to find section 77. She asked if I wanted company. I saw her as divinely sent, so my answer was an easy yes and thank you.
There we were, me and Snow, surrounded by waving flags. That name. My God, so much hopeful whiteness in this day. We walked among the rows that divided the sections. Coming upon No. 77, I pretty quickly found the flag with my father's name.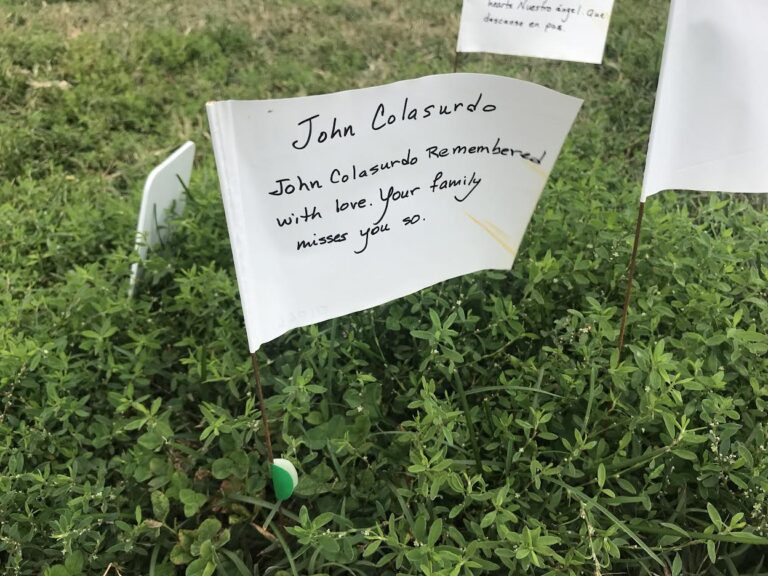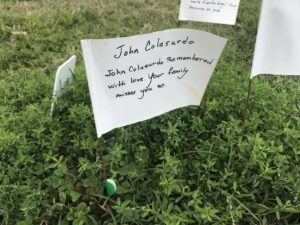 "Do you want me to take some pictures of you with it?" Snow asked.
I nodded. Not only did she oblige with her real camera, but she snapped a few with my iPhone as well.
A light rain began to fall. We chatted and shot some video on our respective devices, hoping to beat the downfall that never came. Before we parted, I handed her my card so she could send me her photographs.
I had begun to feel a bit woozy and hungry by that point, so I started to make my way out of the exhibit. I realized I was exiting at the point that was meant to be the entrance. There was a tent set up with tables under it. I stopped to thank the volunteers for what they were doing, for making this installation possible for so many of us. They lit up, engaged me in conversation. I barely stifled the tears that came as I talked about seeing my father's name on a flag (I had previously filled out a form online).
"I guess I'm not the first to get emotional here," I said, my voice quaking.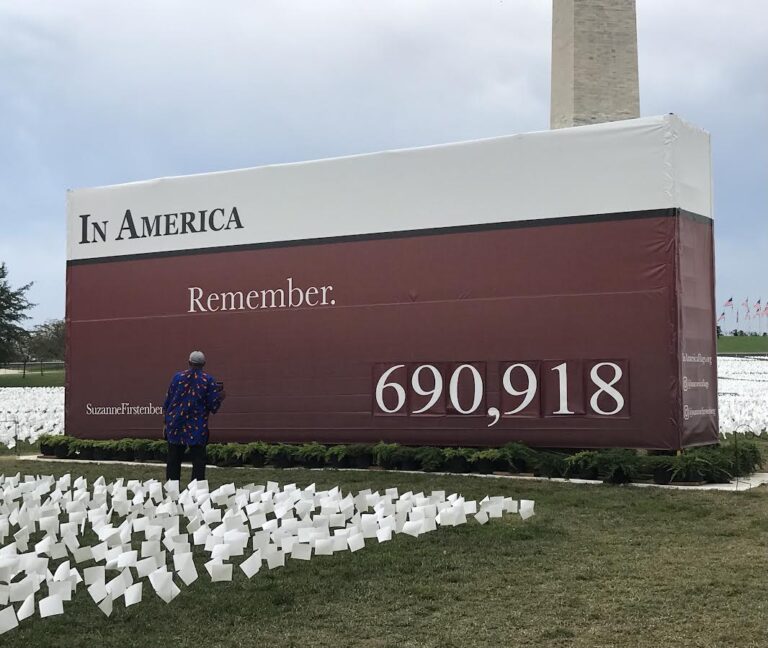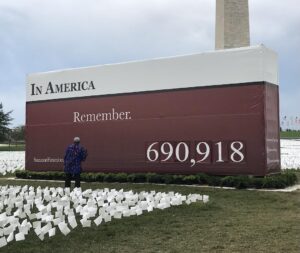 As I left in search of food and caffeine, I saw the staff had changed on the big board the number of COVID deaths – it went from 688,245 to 690,918. That's 2,673 more lives lost in America. Just in the span of a few hours, more pain and grief had been inflicted upon our fellow citizens by a merciless virus in all its iterations.
More widows and widowers, children of all ages without parents and grandparents, healthcare workers taken in the line of duty. Let that sink in for a few moments, the people who died helplessly alone, the upended families.
Sit with the stunning facts and allow them, through the purity of this art, to penetrate your soul.