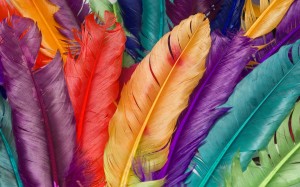 Cross.
Crossing.
Crossroads.
Feels like every darned thing the last few weeks brings me to some form of that word. And it's subconscious. Or at least it was submerged there until about five minutes ago.
But then I sat down to write about talismans, specifically my fascination with being surrounded by them, and I saw the tiny cotton bird perched on my computer monitor. And then my mind went to a white cross and a book I just purchased and before I knew it – bam. Comprehension.
Some back story.
Last week my friend Kathi and I ventured from Hoboken to Frenchtown. They're both in New Jersey, but based on look and feel we may as well have been going from the jungle to the North Pole. For those not familiar, it's kind of like one is "Jersey" and the other is the Garden State, gritty to green.
We went to explore a store called Two Buttons, run by author Liz Gilbert and her husband, and were lured on that particular day because the Penguin Book Truck and Pushcart would be there as well. Lunch on the porch of the Frenchtown Inn next to a quaint bridge got us started on an idyllic sunny September day.
After a delicious meal we walked along the towpath to the store, actually in a warehouse. The tone is set immediately with huge statues outside overflowing with pennies and we added our wishes. Once inside we were greeted by Gilbert's husband Jose and a staff member and asked if we'd like popcorn and/or red wine. The wine was Chilean and as a friend was at that moment on her way back to Chile after visiting the New York area, we accepted and toasted her with two strangers.
I was immediately drawn to a sculpture of a hand, as was Kathi. We began to notice them in different positions and in different colors. Intriguing. Kathi purchased one and later research explained that her Buddha hand gesture is the Varada Mudra, which signifies "offering, welcome, charity, giving, compassion and sincerity." So lovely.
There were these white wooden crosses that kept calling to me. I asked Jose if they had a story. He said he noticed them in Bali because it is rare to see Christian symbols there. They were made by Hindus. I was delighted by the idea of that melding and bought one.
It feels like a little collection is building, as I have two crosses purchased in New Mexico. The first is red with a heart at its center; the second has flowers painted across and down. When I bought the red one in 2001, I couldn't have known I was subconsciously expressing a deep spiritual belief that hadn't yet emerged – love is at the center of all. I chose the second one much more consciously nearly a decade later while at the sacred Santuario de Chimayo.
Browsing in Two Buttons brought that back. Me and the talismans. It's less about the conventional definition of talisman – the rabbit's foot warding off evil or bad luck – and more about the one that says "anything that exercises a powerful influence on human feelings or actions." Attaching meaning to objects, not always right away or consciously, but often in ways that feel soothing and deepen my understanding of myself and my place in the world.
That brings me back to the bird sitting on my monitor. He was one among many in a basket at Two Buttons. He's yellow and sky blue and I named him Attraversiamo, which in Italian means "Let's cross over." But if you read Gilbert's Eat, Pray, Love you already know that. It's the culmination of much soul searching around love and moving forward.
I am at a professional and personal crossroads. I can feel it so strongly. It's been building all summer. It's time to choose a road. A fearful, possibility-filled time.
Perhaps that's why of all the books on that Penguin Truck I chose On The Road by Jack Kerouac. It's a classic that got away from me. But there's more to the choice. I didn't fully get it until I started reading it and reading about it. Wikipedia says it "portrays the story of a fierce personal quest for meaning and belonging. This comes at an interesting point in American history [1947-50] when conformity was praised and outsiders were suspect."
He's called to this journey and he sets out with little cash and much determination. At this particular moment in my life, the meaning isn't lost on me. I'm not exactly living a conventional life. Again – bam. Book as talisman? I suppose.
I am surrounded by talismans. This is why. The bam. I love infusing things (life?) with meaning. The butterfly paper weight. The Tinkerbell figurine I found on the street. The sacred dirt from the sanctuary in New Mexico. The candle holder that looks like a quill and ink well. The laminated St. Francis of Assisi card. The feathers all around my home. The greeting card in the shape of Virginia Woolf. The seashells hand painted by enterprising and creative little girls at the Jersey Shore.
Goodness, I could go on. But you get the idea.
I'm crossing over to a place yet to be determined. But I already know I'm going to like it.