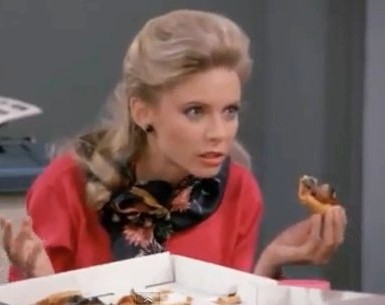 Lately I've been watching Murphy Brown reruns on Encore Classic and laughing my butt off. In one episode the network decides to give fluff reporter Corky Sherwood her own show. Before it even airs a critic writes a mocking review in anticipation of Sherwood asking guests Gary Collins and Mary Ann Mobley something to the effect of, "If you could be a salad dressing, what kind would you be?"
While the commentary upsets Sherwood – played so endearingly ditzy by Faith Ford — she ultimately winds up lamenting that now she can't use that question.
Oh, how perfectly Corky would fit into the current journalism landscape.
With a respectful nod to the inimitable Diane English, enter story meeting at FYI, circa 2014.
"Here's your assignment, Corkster," says executive producer Miles Silverberg. "Come up with nine celebrity Tweets our audience might have missed today."
"I loooooooooooooove that idea, Miles!" Corky says with a big smile. "Twitter makes me laugh so hard sometimes. I follow Richard Simmons and Rachael Ray and Taylor Swift …"
"Hold on," says investigative reporter Frank Fontana. "I think I saw that already done. Maybe BuzzFeed?"
"Oh, drat," says Corky with an eye roll.
"Miles, can we get to my real story on the problems with the plant that's dumping chemicals into the river?" says Murphy Brown, all sassy tone and posture.
"Murphy, hold on," says Miles. "I want to settle on what Corky's doing for the show."
Murphy gets a cup of coffee and makes faces behind Miles' back.
"Corky, don't you have a nice working relationship with Nick Cannon?" Miles says. "I hear he wants to join the tell-all club and reveal all the famous women he's had sex with."
"Ewwww," says Corky, crinkling her face. "Miles, I'm not going to use my connection with him to ask him that. It's just not polite."
"Don't sweat it," says reserved news anchor Jim Dial. "I read all about it already on The Huffington Post."
Everyone looks stunned.
"Oh, I know, why would Jim Dial stoop so low?" he says haughtily. "It's so out of character. He's so proper. Well, sometimes I like to …"
"Jim, please don't tell me you watch The Real Housewives of Atlanta," Murphy says. "I just can't handle the thought."
"For me to know," Jim says, looking away with a snort.
"Back to the Corkmeister," says Miles. "What about something like 'Ten signs your Mom is your best friend' or something like that? It's family oriented. And people like those number pieces. It'll help our lead-in attract viewers and it'll be web compatible."
"Not so fast, Miles," Frank says. "Another BuzzFeed idea that's already been done."
"For god's sake, Frank, did you memorize BuzzFeed today?" Miles yells, exasperated.
"Just sayin' …" Frank says with a shrug.
"Let's go at this from another direction," Miles says. "Corky, why don't you go to BuzzFeed and take a bunch of those quizzes and do a piece on which Full House character you are, where in New England you should live, and which Miranda Lambert song you are? A full report on all the quirky results. What do you think?"
"Oh, I hope I'm an upbeat song!" Corky says. "That Miranda Lambert is so lucky. She's married to that dishy Blake Shelton. Is he in one of her songs?"
"Wow, sounds like I'm not the only one reading BuzzFeed," Frank says.
"Are you kidding me with this?" Murphy says. "I've been patient, Miles. Enough of this. What are we, Entertainment Weekly? I need to talk about this environmental cover-up. Now."
"Oh, Murphy, pipe down," Corky says. "I'm set. By this time tomorrow I'll know whether I should be living in Maine or Vermont, eating lobster or dousing my waffles in maple syrup. What a kick."
"Wake me up and tell me I've stumbled into a story meeting for The Onion," Frank says to Jim. "Please."
"That would take us both out of our misery," Jim says, chortling.
"What are you two, well you three, complaining about?" Miles says. "You know how it works. Corky's lighter pieces bring us another type of viewer. We need more users and social media engagement. That means more people will watch the important news you bring to the show."
"Hey, wait a minute," Corky says.
"Listen, Mary Poppins," Murphy says.
"Murphy!" Corky retorts.
"Well, Corky, the network does think of you as the spoonful of sugar that helps the medicine go down," Miles says in a hopeful tone.
"Are Murphy, Frank and Jim medicine in that scenario?" Corky says.
"Yes."
"Then I love it," she says, sticking her tongue out.
Murphy, Frank and Jim grumble. They pitch and brainstorm a few more stories.
Meeting adjourned.
Off and running. Another day in journalism.