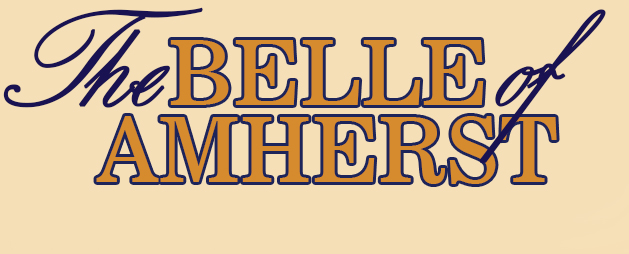 There is a point in The Belle of Amherst — an off-Broadway play in which poet Emily Dickinson is brought alive by the compelling Joely Richardson — where she describes her experience at Mount Holyoke Female Seminary (as it was known then). The girls were divided into three groups – Christian, Hope, and No Hope.
Dickinson dryly notes that she was the leader of the latter group.
I fell in love with her right then.
Because here's the thing. I saw an ad in The New York Times for the play and instantly sent an email to my friend Mary to see if she was interested. She was. We bought tickets.
But the truth is, I was intrigued from a place of really not knowing much about Emily Dickinson. I knew a handful of her poems, that she was from Amherst, that she was reclusive. But I didn't know Emily Dickinson the person as gleaned from her art.
Now I'm off and running, thanks in no small part to playwright William Luce. To hear Emily laughingly admit she was in the 'no hope' group at Mount Holyoke brought up for me how much I respect the questioning of religion, status quo, authority, all of that. I was too obedient to do it for much of my life, and certainly didn't do it as early as Dickinson did. I was in my 30s when the real rumblings began and it started to emerge in my writing, but it wasn't until my 40s that I let it all come crashing down.
Dickinson expresses all of what I've felt so beautifully in this poem:
I'm ceded, I've stopped being theirs;
The name they dropped upon my face
With water, in the country church,
Is finished using now,
And they can put it with my dolls,
My childhood, and the string of spools
I've finished threading too.
Baptized before without the choice,
But this time, consciously, of grace
Unto supremest name,
Called to my full, the crescent dropped,
Existence's whole arc filled up
With one small diadem.
My second rank, too small the first,
Crowned, crowing on my father's breast,
A half unconscious Queen;
But this time, adequate, erect,
With will to choose or to reject,
And I choose — just a throne.
In her blog on the poems of Emily Dickinson, Susan Kornfeld writes, "[This] poem is a clarion call to self-knowledge and independence." Yes, yes, yes, yes, yes! This is what Dickinson meant when she said one knows it's poetry "If I feel physically as if the top of my head were taken off." I do.
As Richardson embodies the poet, moving easily from desk to chair to window as the play progresses, her Dickinson tells us she is spiritual and not religious, that she makes her own rules when it comes to the practicing of it. I particularly loved when she recited this from the stage:
Some keep the Sabbath going to church;
I keep it staying at home,
With a bobolink for a chorister,
And an orchard for a dome.
  
Some keep the Sabbath in surplice;
        
I just wear my wings,
And instead of tolling the bell for church,
Our little sexton sings.
  
God preaches,—a noted clergyman,—
And the sermon is never long;
        
So instead of getting to heaven at last,
I'm going all along!
Ah, the joyful irreverence of Emily Dickinson buoys me so.
But then there is, too, the artist aspect of her that drew me in. Luce's first act leaves us hanging, sort of, as Emily awaits word from literary critic Thomas Wentworth Higginson on how he will answer her query – "Are you too deeply occupied to say if my Verse is alive?"
What devoted writer among us hasn't wondered that, asked it countless times, regardless of bylines and books and awards? She wondered, and yet knew she was special, that she had it. But even when we know it in some deep place, we also have doubt nipping away at the edges of our surety. It is part of life as an artist.
When we returned from intermission and found within minutes a rejected Emily, I almost felt like I was taking the hits myself. She was crushed, in disbelief that he didn't see her unconventional style was remarkable instead of something to fix.
There was also something about seeing this play just days after viewing the film Kill the Messenger and experiencing Henri Matisse's Cut-Outs at the Museum of Modern Art that magnified the power and admirability of singular focus.
In the film Jeremy Renner plays San Jose Mercury News reporter Gary Webb, who doggedly investigates and unearths a story that exposes the CIA's role in arming Contra rebels in Nicaragua and importing cocaine into California. He is consumed and it cost him so much to bring out important truth. Even now, a decade after Webb took his own life, articles are being written to refute his story as portrayed in the movie.
As for Matisse, the MOMA website tells us he "reinvigorated his study of color in his last years through his cut-outs made from brightly painted paper." He did some of his greatest work in his 80s, just before he died, and it was for me a stunning display of vibrancy and movement from one room of the exhibit to the next.
I ingest these stories – Webb, Matisse, Dickinson. They fuel me. Three of them in four days … wow. I feel propelled to embrace my own creative reflexes in a fresh way.
This morning I went to the used bookstore in my town in search of some treasure, some Dickinson gold. I found a wonderful collection and sat down to read it in the park on this crisp fall day. And then Emily explained my inclination, via a poem in which she refers to an antique book using the male pronoun:
His quaint opinions to inspect,
His knowledge to unfold
On what concerns our mutual mind,
The literature of old;
So much concerns our mutual mind, this poet and this writer.
When The Belle of Amherst opens, Emily reveals she is age 53 at the time of the telling. As I sat there a few months shy of my 53rd birthday, I smiled at the synchronicity.
"The soul should always stand ajar," she writes.
It leaves room to welcome in so much.