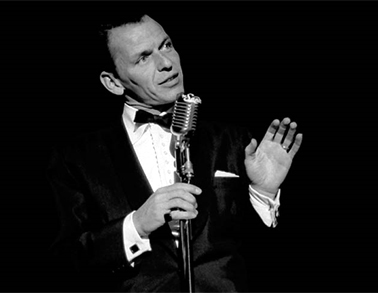 "ALLLLLLLLLLLLLL or nothing at alllllllllllllllllllllll, half a love never appealed to me …"
I've heard Frank Sinatra sing those lyrics by Jack Lawrence many, many, many times. But it wasn't until a recent experience at One Day University that I began to understand what makes his sound unique from the standpoint of a music scholar and why his energy resonates with me so much.
"He's sitting on the consonants," says Anna Harwell Celenza to an audience of nearly 350 in a hotel ballroom in Midtown Manhattan. This Georgetown professor is on a stage with a large screen behind her. And she's playing snippets of his songs to illustrate her points in what turns out to be a powerful and informative presentation.
I am teary in spots because the music brings up childhood memories. At age 51, I consider Sinatra my early life's soundtrack – my parents' wedding song is Day by Day and my father used to sing Nancy with the Laughing Face to me. As I write this, I'm playing a CD my father made me of my favorite 'swinging' Sinatra tunes and it opens with Sinatra at the Sands with the great Count Basie orchestra. Come Fly with Me, he says, and I'm all in. Plus, well, I live in Hoboken and he's very much a part of its lore.
But back to All or Nothing at All.
Celenza explains most singers would sit on the vowels – "AAAAAAAAAAAAAAALL or nothing at aaaaaaaaaaaaaall …" – and the fact that much of Sinatra's impact also comes from where in the lyric he takes a breath because it evokes a different mood when held longer. That, in fact, he used to get in a pool and go underwater to learn to how to hold his breath for longer and longer periods of time. She also notes he was the first singer to hold the microphone, again bringing more intimacy to the delivery than simply standing and leaning to sing into it.
My father has talked about the early Harry James years and the ensuing Tommy Dorsey years and how Dorsey wouldn't let him out of his contract easily (Dorsey got 43 percent for the next 10 years). But it wasn't until I heard it presented by Celenza in context that I understood it from a creative and entrepreneurial standpoint.
"It was not about the money," Celenza says. "He was following an artistic vision."
Much faith in that vision and a willingness to fail and keep trying – that was the Sinatra formula. By opening her talk with his obituaries and letting her audience see the contrast between the print ones (flat) and the radio ones (vibrant), Celenza emphasized the musical gift and extreme passion as the story. To illustrate the point that he was willing to constantly shift and change, she plays versions of All or Nothing at All from several decades. I could hardly keep still as the one from 1966 came through the sound system and I wondered how everyone wasn't up or at least tapping their feet. The music gets right under the skin.
There was a time when being famous for your music meant you were a composer. Sinatra didn't write songs and couldn't read music, but he made each song his because he developed his natural ability using the aforementioned devices.
"It's about being an amazing communicator," Celenza says.
With so many singers in the same genre, why was it Sinatra who has achieved the most longevity and iconic status?
"Because we saw him fail," Celenza says.
I find this soothing. I've always understood the appeal of My Way and why Paul Anka wrote those words for Sinatra, but I get it on a deeper level now. There is an appealing arrogance there, one that carries its share of vulnerability because over and over again we've heard him sing about being in love and then losing that love and moving through it. And, heck yes, we've seen him be down on his luck and come roaring back.
Makes me a little more sure of continuing to live my life my way. Oh, what a little learning can do.
This One Day University series also included a lecture about Michelangelo. Columbia professor Tina Rivers noted that he became more spiritual later in life and that he worked up until eight days before he died just shy of his 89th birthday. That really resonates with someone like me, whose spirituality is stronger than it ever was and who doesn't plan to ever retire.
This is what I love about learning, getting into the art and the craft but also the living. It humanizes our greatest artists. Not only do I love their work, but I get them as people.
One day they've got the world on a string, the next they're asking someone they love to let them try again. It's all part of it.
Up, down, art, life. Here we go.