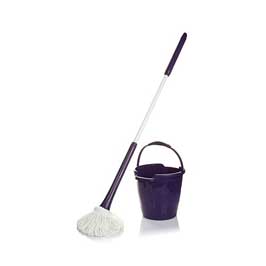 The other day I bought a mop.
Not just any mop.
I was channel surfing and stopped on HSN because the description said, "Joy." There was Joy Mangano demonstrating an updated version of her Miracle Mop. With "Self-Wringing Helix Technology" and a "Braided Miracle Microfiber Head" – oh my.
No bending. No exertion. No stretching. No hands in water. Cool colors. Insanely priced the same as her original over 20 years ago.
So yeah. I now own a fuchsia one. It will help tremendously when I have limited leg power and it'll be great for cleaning my ceiling fan. Plus, I'll save money on disposable pads for my other cleaning contraption.
Honestly, I'd never purchased anything from HSN or QVC. It's not my thing. I can't deal with the way they work you over.
"Twenty-two more left."
"The red is gone. Only the black and gray are available and the phones are ringing."
"This price is only good for another 10 minutes … "
I know people who love this. I am not one of them.
But this was Joy on my TV. It was Jennifer Lawrence trying to get Robert DeNiro and Isabella Rossellini and that self-centered half-sister of hers to take her seriously. It was Jennifer Lawrence catering to a mother bound to her bedroom by a fixation for soap operas and a fear of leaving her bed.
Joy. Ferocious, brilliant Joy.
My mop moment was all about a movie. I saw Joy the day after it was released and I've thought about it every day since. For those not familiar with the film, it is based on Mangano's life. She's an inventor – and a single mother — who scrapped her way to success despite constant naysaying from her dysfunctional family and a system laden with obstacles. She got her product to market, is now the president of Ingenious Designs, LLC, and holds more than 100 patents for her inventions.
As I sat in that theater, I suppressed a sob when she got her chance at HSN after courageously confronting the executive played by Bradley Cooper. Yes, Joy. Go, Joy. Take it to the hole, Joy. Slam dunk, my Italian-American sister.
Her setbacks were so painful. I felt like I took the hits with her. Don't we all experience those? They come from extending ourselves, being determined when we have a vision. The doubters add much-needed fuel. By unwittingly daring them to bring their negativity, we are helping ourselves. But the victories, they are well worth all the failures. Getting kicked in the teeth a few times can put you cowering in a corner or it can make you rise up and emit a kind of noise that comes from a primal place. A roar that demands to be heard.
Joy.
You think I'm not going to drop $20 to buy a mop from Joy Mangano after watching that story unfold? What a no-brainer.
A few days after seeing Joy I saw the film Carol. It couldn't be more different in its sensibility or subject matter. Cate Blanchett and Rooney Mara play two women who fall in love in New York City in the early 1950s. The societal stigma forces Blanchett's character into a life-altering decision. I walked out of The Paris Theatre in the rain and came away with the same resounding idea about life as I did after seeing Joy – be you. It's worth it in the end.
Prior to seeing Star Wars: The Force Awakens, I was delighted to hear director J.J. Abrams on 60 Minutes expressing his anxiety around the release of the film. So much pressure and fear, but the good kind for a person who knew what he wanted to do with his life by age eight.
"There are moments of just abject terror," Abrams said.
It takes that kind of courageous creator to write and direct something of such epic proportions.
At one point in the movie, Maz Kanata (played by Lupita Nyong'o) tells Rey (Daisy Ridley), "The Force, it's calling to you. Just let it in." Rey learns to tap into its power.
I smiled thinking about it later.
One woman's lightsaber is another's mop.