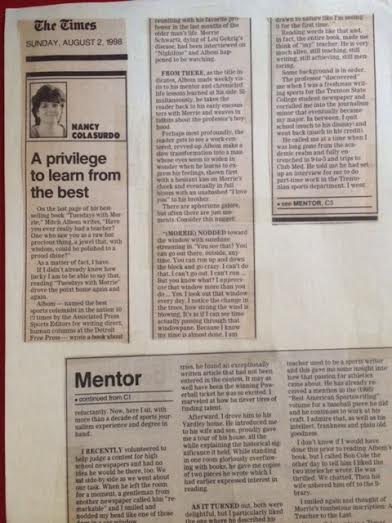 I found out yesterday that my teacher and champion, Dr. Robert Cole, died this week. It is a strange thing to get that kind of news on one's iPhone while standing in a gym locker room about to work out. I let myself cry, wiped my eyes, and went out to the weight room in a complete zone. It was a luxury to just be with my thoughts and memories.
It was a no-brainer that I'd write something about him. I decided almost immediately that I'd have to fish out a front-page Sunday column I wrote about him many years ago and use that as a launching point for reflection. My fond memory is of having his wife, Nan, tell me that she read it first and then when Dr. Cole (I will always call him that) came to breakfast, she smiled at him and said, "You're going to like The Trenton Times today."
That fills me with joy even now, especially now. And that is why I am going to present here that column in its entirety and let it live on the Internet. I think it is the best tribute I could give this extraordinary man.
The Times of Trenton
Sunday, August 2, 1998
A Privilege to Learn From the Best
On the last page of his bestselling book "Tuesdays with Morrie," Mitch Albom writes, "Have you ever really had a teacher? One who saw you as a raw but precious thing, a jewel that, with wisdom, could be polished to a proud shine?"
As a matter of fact, I have.
If I didn't already know how lucky I am to be able to say that, reading "Tuesdays with Morrie" drove the point home again and again.
Albom – named the best sports columnist in the nation 10 (!) times by the Associated Press Sports Editors for writing direct, human columns at the Detroit Free Press – wrote a book about reuniting with his favorite professor in the last months of the older man's life. Morrie Schwartz, dying of Lou Gehrig's disease, had been interviewed on "Nightline" and Albom happened to be watching.
From there, as the title indicates, Albom made weekly visits to his mentor and chronicled life lessons learned at his side. Simultaneously, he takes the reader back to his early encounters with Morrie and weaves in tidbits about the professor's boyhood.
Perhaps most profoundly, the reader gets to see a work-centered, revved-up Albom make a slow transformation into a man whose eyes seem to widen in wonder when he learns to express his feelings, shown first with a hesitant kiss on Morrie's cheek and eventually in full bloom with an unabashed "I love you" to his brother.
There are aphorisms galore, but often there are just moments. Consider this nugget:
"Morrie nodded toward the window with sunshine streaming in. 'You see that? You can go out there, outside, anytime. You can run up and down the block and go crazy. I can't do that. I can't go out. I can't run … But you know what? I appreciate that window more than you do … Yes, I look out that window every day. I notice the change in the trees, how strong the wind is blowing. It's as if I can see time actually passing through that windowpane. Because I know my time is almost done, I am drawn to nature like I'm seeing it for the first time.'"
Reading words like that and, in fact, the entire book, made me think of "my" teacher. He is very much alive, still teaching, still writing, still achieving, still mentoring.
Some background is in order.
The professor "discovered" me when I was a freshman writing sports for the Trenton State College student newspaper and corralled me into the journalism minor that eventually became my major. In between, I quit school (much to his dismay) and went back (much to his credit).
He called me at a time when I was long gone from the academic realm and fully entrenched in 9-to-5 and trips to Club Med. He told me he had set up an interview for me to do part-time work in the Trentonian sports department. I went reluctantly. Now, here I sit, with more than a decade of sports journalism experience and degree in hand.
I recently volunteered to help judge a contest for high school newspapers and had no idea he would be there, too. We sat side-by-side as we went about our task. When he left the room for a moment, a gentleman from another newspaper called him "remarkable" and I smiled and nodded my head like one of those dogs in a car window.
When he returned and began poring through his stack of entries, he found an exceptionally written article that had not been entered in the contest. It may as well have been the winning Powerball ticket he was so excited. I marveled at how he never tires of finding talent.
Afterward, I drove him to his Yardley home. He introduced me to his wife and son, proudly gave me a tour of his house, all the while explaining the historical significance it held. While standing in one room gloriously overflowing with books, he gave me copies of two pieces he wrote which I had earlier expressed interest in reading.
As it turned out, both were delightful, but I particularly liked the one where he described his travails and triumphs playing high school basketball. You see, the teacher used to be a sports writer and this gave me some insight into how that passion for athletics came about. He has already received a mention in the (1995) "Best American Sportswriting" volume for a baseball piece he did and he continues to work at his craft. I admire that, as well as his intellect, frankness and plain old goodness.
I don't know if I would have done this prior to reading Albom's book, but I called Bob Cole the other day to tell him I liked the two stories he wrote. He was thrilled. We chatted. Then his wife ushered him off to the library.
I smiled again and thought of Morrie's tombstone inscription: A Teacher to the Last.