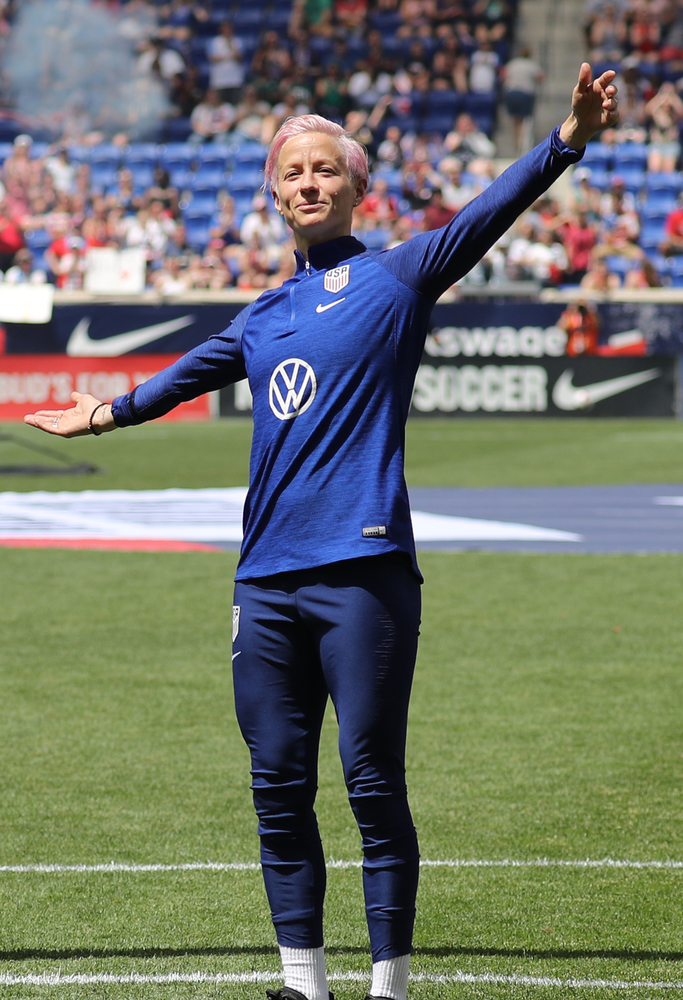 Alex Morgan drinking fake tea is just what I need right now.
If you haven't heard, the forward from the United States women's soccer team made a tea gesture after scoring what would be the winning goal in the 2019 World Cup semifinal against England. Some call it overly celebratory; I call it a welcome "take that" gesture.
First of all, a journey through YouTube will yield all kinds of overt goal-scoring celebrations in women's soccer, so spare me the scolding. It's the norm. For many, this is about diminishing the sport.
Clearly this World Cup has become about so much more than soccer. Many American women are feeling battered by what's happening in our country right now. We need wins, so the tea lands like a sweet victory moment, however fleeting.
Think about it. While we're beating ourselves up with weekly doses of season three of The Handmaid's Tale hoping there's a massive resistance coming, the U.S. women's soccer team is countering with female power, the exhilaration of competition, and pure joy. They're making us proud of our country in a way that few other things can right now.
What I've realized is that bringing collective energy to this U.S. team is applying a temporary, welcome salve to our national wound. It's the first week in July, a time when we typically express our patriotism in fun flag cakes with stripes made of fruit. Instead we're seeing gross images of tanks and a partisan celebration in the making in Washington, D.C., on the heels of a highly disturbing few weeks of our President showing his unabashed admiration for murderous dictators under the guise of diplomacy.
Of course in conducting his presidential duties, Donald Trump made time to take a shot at offensive force Megan Rapinoe, who when asked if she was looking forward to winning and visiting the White House, said, "I'm not going to the fucking White House."
I felt that in my soul.
Rapinoe is all of us who want to slay the dragon. It feels important that she and her team win for a myriad of reasons. Prestige and trophy, sure. But the phenomenon around the U.S. women right now is inextricably linked to our feeling of powerlessness in our national politics.
For some context, consider this. I spent 15 years covering girls' and women's soccer for a newspaper in the 1980s and '90s. I have been cheering on the U.S. women in World Cups and Olympics since the '90s, but it has never felt like this. In the days when I did this as a job, I had occasion to interview players like Michelle Akers. Back then women's soccer at the highest level felt pioneering because it was. Now it feels activist. And I love that about it.
Now it's about equal pay and the ability to speak our minds and have control of our bodies and love who we love. Make no mistake, for many of us this is all rolled up in that black and white ball that's getting kicked around.
Sports is typically an escape, a chance to forget our daily lives. This team allows us to somehow disconnect from that and yet connect with something rousing in ourselves. We bring the fight in us to a game. It's almost implicit, our communication with these athletes representing us on a world stage: Bring us the fight we can win. Let us spend a few hours, a manageable chunk of time, cheering for the outcome we want and then, maybe, getting that outcome.
Glory be.
One more World Cup hurdle.
As the U.S. prepares for Sunday's final, let's drink up. Make mine a fake English Breakfast with a dash of milk and sugar.