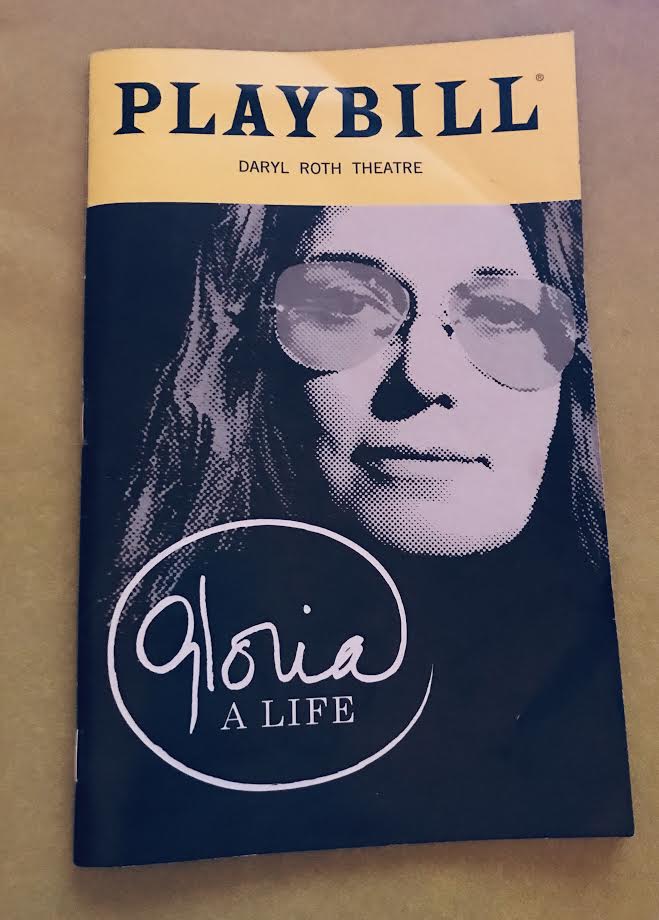 From the New York magazine archives, President Nixon to Henry Kissinger on White House Audiotapes, 1972:

Nixon: [Dan Rather] asked a silly goddamn question about Ms. — you know what I mean?

Kissinger: Yeah.
Nixon: For shit's sake, how many people really have read Gloria Steinem and give one shit about that?
****
Are you wondering what I'm going to write next on this 85th birthday of Gloria Steinem?
Maybe that the female ones who don't give a shit seem awfully fine with having credit cards and mortgages with their names on them?
Perhaps that the guy making that comment has left a less than honorable legacy?
That 40-plus years after this question was posed, Gloria Steinem is a celebrated historical figure, activist, author, and hero of many?
That Ms. magazine is not only still in print, it's an institution?
How about all of the above?
****
Just two days ago I saw Gloria: A Life, a play about Steinem at the Daryl Roth Theatre in New York. When I walked out, I said to the usher in passing, "OK, I either need chocolate or alcohol." I felt emotionally raw.
The engaging Patricia Kalember as Steinem, in signature aviators and wide belt, spoke to us in a theatre set up in a circular pattern. We surrounded her and the other actors, who came in and out in roles like Steinem's mother, Ruth; activist and co-founder of Ms., Dorothy Pitman Hughes; and Congresswoman Bella Abzug.
As Kalember's Steinem took us through her life, we got more than the triumphs. We got the vulnerabilities. The beauty of the story is found in there, those dark human moments. Steinem may have pushed through plenty of attacks and mockery, but then one would get to her ("you're ruining lives") and it would land hard. Or the therapy that revealed maybe constantly having a man in your life isn't healthy and it needn't be defining.
I watched with fascination a scene where four women in a room generated an idea for a smart magazine that would be counter to the lipstick and house cleaning and not-so-subtle messages of self-improvement always, always, being the goal in typical women's publications. Then the conception of a name, Ms., rife with meaning and perfectly aligned with the movement. It struck me as particularly inspiring because, truly, don't we mostly see a finished product and look on in awe and not think about how it came to be in the first place?
It's why I tell aspiring screen writers that the best way to demystify the bigness of that is to get your hands on a screenplay for your favorite movie or television show, page through it, and realize it's simply words on paper. That's it. It was born the same way yours will be born. A writer bled on a page so someone can bring the words to life.
So, yes, four women in someone's living room and the next phase of a revolution is conceived. Boom.
As much of the play unfolds, there are images being projected on the theatre walls, some photos, others film clips. We see the aforementioned exchange of Nixon and Kissinger. We also glimpse television journalist Harry Reasoner, who said this about Ms. magazine in 1972: "I'll give it six months before they run out of things to say." He later ate crow on-air.
What a reminder of the outright negativity and derision that occurred simply because women were striving for equality. Ever present in the audience was an awareness of the moment we're living in now, one where we feel the country is leaderless or certainly lacking in anything resembling moral, humane leadership. Gloria: A Life brought into focus our current challenges as we forge ahead for equality based on gender, race, religion, and class in a fraught time.
I left the theatre feeling there is much to be hopeful about and grateful for, but also more cognizant of the seriousness of the slog and all of the context around "nevertheless she persisted" and #MeToo and having multiple female candidates running for President and the importance of finding your tribe amidst it all.
I went with the chocolate, by the way. It felt well-earned.