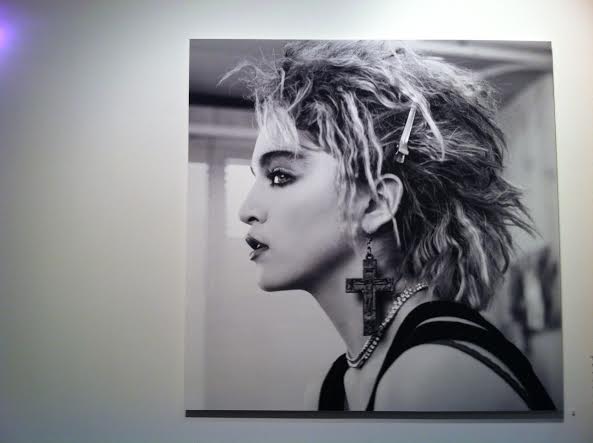 When Madonna was dancing before burning crosses in her Like a Prayer video in 1989, in a way it was like she was me gone rogue. I was a rule follower who was ripe for questioning my Catholicism and in her I felt represented, if stuck. I was instantly hooked on her brashness and, since I spent a lot of time in dance clubs back then, I also loved the music. It made you want to move.
Ultimately, though, she was expressing what I didn't have the guts to express.
As I strolled through Richard Corman's photographs of a young Madonna at the Milk Gallery in Manhattan's Meatpacking District recently, I was struck anew by that ballsy woman who found her way in the city that she so deftly navigated to stardom. I was reminded of the trends she set in fashion – the lace peeking out of the holes in her jeans, the bracelets up her arm – and her astounding confidence.
But what also hit me was the timing of seeing this exhibit the same week that Pope Francis was named Time's Person of the Year. Twenty four years after Madonna seized my attention with her raw rebellion, this Pope is seizing my attention by being Christlike. In an age where pockets of Christianity have become the antithesis of what Jesus stood for, the world is paying attention to the leader of a church I said goodbye to over a decade ago.
I am heartened.
Over the course of the last two decades I have belonged to a Catholic Church in Central New Jersey (in the 1990s), been adrift after moving to Hoboken and then, disgusted after the priest scandal emerged, made for the door in 2002. I severed ties to the point where I couldn't even stand the mention of the Church. The staid, unrelatable leadership was too silent on the sexual horrors and was even covering them up in some cases. Moral beacon? Not for this woman.
Simultaneously, though, I felt free to explore other options. My belief in a higher power never wavered. I'm a 10-minute subway ride into Manhattan so I started spending more time in churches of varying denominations. I settled on New Thought for a while, learning about how we manifest our lives and thinking more about the enormity of the divine. My mind opened along with my heart and soul. I read books in the spirituality category and started seeing there are many ways to God.
I set about to find mine and now I live it, unafraid of what anyone will think. It's so liberating to feel secure in my faith. Lots of people are on similar spiritual paths and I love talking with them about their individual journeys. I can go in a church of any denomination, a synagogue, a mosque, a town hall, a park bench and find God. It's simple.
As it happens, I live across from a Catholic Church and since finding solace there the day after Hurricane Sandy last year I've been attending weekday mass once a week or so. It's at 12:10 and sometimes I'm coming right from the gym or I get up from my writing desk and walk over. It's special time each week, unplugged, meditative. It's connection in a way that feels familiar, my bitterness for the Church replaced by a soothing and luscious peace.
I'm not Catholic, but what I learned in eight years of Catholic grammar school and at home has stuck with me in how I like to communicate with God. I'm removed from the structure, immersed in the spirit.
A few years ago I picked up a fascination with St. Francis of Assisi, mostly because for a long time I was focused on being understood and his prayer and teachings are about learning to understand. That opens up everything in our hearts. Like learning to love as well as to be loved. Both sides of the emotional coin. It's a richer experience.
When Pope Benedict XVI resigned earlier this year and it came time to name a new Pope, I wrote an open letter to the yet-to-be-named pontiff. I asked him to address the issues of real strife in the world and to bring back compassion and empathy in a way that loyal Catholics – unlike me — deserved after sticking with the Church through pervasive corruption.
Enter Pope Francis.
I was sitting in a café on the Upper West Side eating lunch with my friend Kathi when on a nearby TV we saw him emerge on the balcony and saw that, lo and behold, he had taken the name Francis. My eyes welled up. Visceral hopefulness. For what I wasn't even sure. But I just knew something was about to change. And it has.
According to Time's cover piece called "The People's Pope," Francis is a former "janitor, nightclub bouncer, chemical technician and literature teacher." (That line conjures up a tune in my head — Sinatra singing "I've been a puppet, a pauper, a pirate, a poet, a pawn and a king …"). His actions tell us he's about context and ministering to people in slums and distress and not so much concerned with absolutes.
If you want a gold star for following the rules to the letter and leave no room for tolerance or humanity in your interpretation of those rules, then Pope Francis probably isn't your favorite choice for a leader. It is my fervent wish that those who fall in this category will learn something from this man and his authentic joy in service to his fellow human beings. It's not public relations, it's human relations.
I like the way Time managing editor Nancy Gibbs put it:
"For pulling the papacy out of the palace and into the streets, for committing the world's largest church to confronting its deepest needs and for balancing judgment with mercy, Pope Francis is Time's 2013 Person of the Year."
In a recent article about Like a Prayer, writer Teddy Jamieson wrote, "Always running in parallel, Madonna's fervent attraction to and feminist rejection of the orthodoxies of the Catholic Church was one of her most significant creative accelerants."
Mine, too.
But now there's this, my favorite part of Time's coverage, where writers Howard Chua-Eoan and Elizabeth Dias refer to "the interview Francis granted the atheist editor of the Italian daily La Repubblica, in which the Pope was quoted as saying, 'I believe in God, not a Catholic God.'"
That gave me chills.
Yes, Your Holiness. Yes.
It took me a couple of decades, but I'm right there with you.