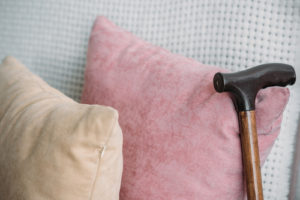 A few Fridays ago, my parents were scheduled to pick me up at Point Pleasant train station at 1 p.m. The idea was to go to the "fine" baby store nearby so my mother could pick out a gift for an upcoming baby shower.
While I was in Secaucus train station to make a connection that would have me on the train for two hours, I saw on the board that there were delays. As it turned out, I wound up on an earlier train that would get in at about 12:30 p.m. I called my mother and informed her of the new time, and told her I was estimating. With anyone else, I'd say, "I'll call or text with updates" but this is my old school parents.
"Oh, OK, I'll charge my phone," my mother says of the basic gadget we forced on her a few years ago.
"Yeah, but do you know how to answer it yet?" I say.
"Yes, I can answer it sometimes," she says. "And also make a call."
OK, I'm thinking. We'll see how this goes.
I arrive 10 minutes early and the white Mercury Marquis is not there. This would not be an issue except my parents think they're late if they're not a half-hour early. So I wait. And wait. And wait. I try to call. No answer.
Now I'm convinced something bad has happened. I'm not typically inclined to ominous thinking, but here's the deal. I have two parents who in the last three weeks were in the hospital three times between them. At this point, my mother had been in twice for a rapid heartbeat, released just a few days earlier.
Minutes later, the Mercury Marquis pulls in and they're both laughing. I'm still reeling, but force a smile.
"We got caught in bridge traffic!" my mother says. "They had to open the bridge."
As I'm about to ask about her phone, she beats me to it.
"And I remembered to charge my phone, but then I left it at the house," she says, still laughing.
Dad moves out of the driver's seat so I can get in and we go to the "fine" baby store. I've Google mapped it and it's four minutes away, so I've got this. Cane in hand, Mom picks out what she wants and then realizes it might be a good idea to buy another gift for another shower that's coming. We walk out with two wrapped gifts.
"Now if anything happens to me, both babies will have gifts from me," my mother says.
Gulp.
That night I stay over. Mom and I watch a few Judy Garland DVDs because she loves Judy. And truth be told, she's passed on that appreciation to me. The next day, Saturday, in the late afternoon I'm back on a train home. I'm in Secaucus, waiting for my connection to Hoboken, which means I'm 10 minutes from home, when my phone rings. My father is in the ER. Rapid heartbeat.
My sister, who like me has just left them, goes back to be with them. I head home and await updates because even if I got right back on a train, I wouldn't get there until 10 p.m. They keep Dad in the hospital to run tests and so it turns out he's still there on Election Day.
I vote at 6 a.m. and grab an early train so I can be there by 10. My mother stops to vote and then comes to pick me up, which we're not allowed to tell Dad because she drove a whole 25 minutes by herself. When we arrive, my father expresses his disappointment that he's stuck there and can't vote. I go to the nurses' station and ask if there's any way to make that happen. The nurse leaves to go ask someone and I'm grateful she's trying so hard while also wanting a medal because I know my father's vote is going to cancel out mine. She comes back with a number to call and I find out the deadline was yesterday.
Oh well, we tried.
In the afternoon when Mom and I drive back to her house, she tells me how much better she was treated at the same hospital the week before and wonders if it's because her and my father have different health plans. I nod, because I'm sure that's true.
But I stop short of saying money talks and if it didn't that would be socialism and just two months ago at our beach house you told me that one of the things that keeps you up at night is your fear of socialism and I told you don't sweat it because it won't happen in your lifetime. We avoid talking politics in my family because I am the lone non-Trump supporter in the bunch. It's just not worth it.
I go home that night because I want to be in my own home when I watch the election returns.
The next morning I call the hospital to talk to Dad. He's coming home, which is good news. But he's agitated because my mother drove there by herself. It's 10 minutes from their house and she used the valet. He's 87 and I know better than to try to change him, but I decide to shift the paradigm a bit.
"Dad, you know, if something happens to you, it will be a really good thing that Mom can drive around the neighborhood there," I say.
"I never thought of it like that, Nan," he says. "You're right."
Hmmm. Maybe I've made some headway there.
A few days later, in my world of freelance jobs, one person I report to texts and asks if there's something I didn't get done this week because of my "travels." Well, first of all, I got it done in a timely manner, thank you. Second of all, "travels?" What am I on, an Alaskan cruise over here?
I know I'm fortunate to still have both parents. And yes, that is a journey in and of itself.