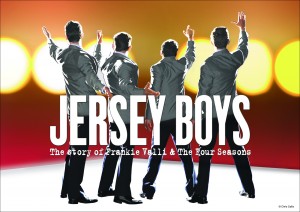 I saw the Jersey Boys movie  with my mother this week. I had seen the play with her and so when she said she "desperately" wanted to see it on the big screen, we made a date. On the way to the theater I played a Four Seasons CD and we sang along all the way there.
"She-e-rry, Sherry baby …"
"Oh, what a night, late December back in '63 …"
See, my life as an Italian-American who grew up in New Jersey is very much about this kind of connector. Be it Frank Sinatra or Frankie Valli (or others too numerous to list), there was always music playing in my childhood home. My parents had some overlapping tastes, but Dad ran big band and easy listening while Mom could just as easily be singing along to country or doo wop.
Nice, right?
Picture our Central Jersey suburb. Always a good meal. Nice house. Nice neighborhood. Lawn. Pool. Bikes. Nice.
So really, it is still jarring for me to see Italian-American Jersey life as it is most often depicted in film and television. This Jersey Boys movie was rough. I'm not going to pretend I've never heard the 'f' word or that I don't unapologetically use it or that it wasn't perfectly authentic for boys running around Belleville to be using it when Frankie Valli was a kid. I suppose what unsettled me a bit was the heaviness of the movie with its crime and mob dialogue when the play was so much lighter. A drama vs. a musical.
I wound up ultimately enjoying the film, definitely because of the music but also because I am in love with seeing the genesis of art. I find it satisfying to see the struggle and doubt, the sweat and staring down naysayers, that comes with creating a hit song or any other art form that eventually resonates with the masses.
Still, as I let the movie wash over me for a few days, I can't help but feel a little sad for the stereotype it reinforces. I know it's authentic. I know the mob exists. I know this is a true story. I'm not one who generally gets up in arms over the portrayal of Italian-Americans in media. It's more like I take little morsels from The Sopranos or Mafia-centered movies and savor those.
We are often 'in your face' people, gruff exterior with mush inside. We have a way about us that is hard to describe if you haven't been exposed to it. I have over 30 first cousins and we spent a lot of time together on holidays, at picnics, at the Jersey Shore (not like the one depicted on TV, but that's another story). We grew up smelling garlic hitting olive oil in a pan on Sunday mornings, giving cash in envelopes when people got married, in each other's business, and sometimes loyal to a fault.
I didn't know anyone with a mob connection. The only person I knew who had a gun in their house was my friend whose father was a cop. My father didn't hang with guys who were running numbers or stealing things off the back of trucks. This was completely absent from my childhood. In retrospect, I was pretty sheltered in our little suburban enclave and bless my parents for that.
As I got older and was out among more and more people not like me, I learned to rein in 'the Jersey' a little. When in my mid 30s I was in Ann Arbor for a journalism fellowship at the University of Michigan and it was there that I really felt my 'difference.' I almost felt exotic having a vowel on the end of my name. Imagine planning with my 15 or so other fellows a Thanksgiving menu and me chiming in with, "I'll take care of the antipasto." Quizzical looks all around. The what?
Doesn't everybody have Genoa salami and mozzarella before the turkey? No?
I wound up making it anyway, just so I would feel like it was Thanksgiving in my own personal universe. I still laugh at the thought of trying to find an Italian deli that had mozzarella in water.
Something about this topic always brings me back to Moonstruck, the Brooklyn-based film where Cher and Olympia Dukakis turned in Oscar-winning performances as Loretta Castorini and Rose Castorini, respectively. A sometimes heartwarming mother-daughter combination, sure, but the beauty of it was more in the sardonic, gritty dialogue between them.
"Your life's going down the toilet," Rose says to Loretta when she's been out all night. Requisite hand motions, drama and volume are all present and all dead-on accurate.
In our culture, there's no "Honey, I don't think that skirt is flattering" between mother and daughter. It goes more like, "You're gonna go out like that? You look like a hooker on Jackson Avenue." (When my mother says this it's pronounced "Aven-ya" in her Jersey City accent, which, by the way, is where Jackson Avenue is located).
I so treasure being Italian-American.
We love hard. We fall hard. We eat well. We sing passionately.
Mom almost had to contain me in the seat when Frankie Valli (played wonderfully in the film by John Lloyd Young) stood before an audience and belted out, "Oh, pretty baby, don't bring me down I pray …"
I knew it was a rough go for my mother in the beginning of the movie but that she, too, wound up enjoying it.
So much of it was about who we are.