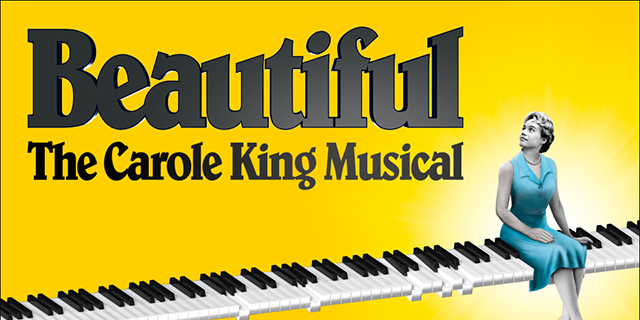 Truly, I don't know how any human being living a life of settling could walk out of Beautiful, The Carole King Musical and go back to some going-through-the-motions existence. I just don't. It would require being shut down to lush layers of life lessons wrapped in a neat, entertaining package.
I sat stunned and teary at the show's close and then, still stunned, stood with the appreciative crowd and clapped my butt off.
What had I just witnessed?
If I wasn't already steeped in my own creative journey – writing, writing, writing and more writing – I think I would have walked straight out the door of the Stephen Sondheim Theatre and put pen to paper. Instead, I felt an overwhelming sense of relief that I hadn't strayed far from my own writing dreams. I have kept on. That is no small thing, no matter how often I shrug it off or hear others try to diminish it. I have kept on.
Thank you, Jessie Mueller, for pursuing your art forms – acting, singing, playing the piano – and bringing alive Carole King's journey in Tony Award-winning style on a Broadway stage. Thank you, Carole King, for writing, pursuing ways to be heard, writing, not being sidetracked by your life circumstances, writing some more, expressing love and pain through music, persevering, not being a victim, writing, trying new things, being beautiful and showing us that we are, too.
For those unfamiliar with King's story, as I was prior to seeing the show, she audaciously got the attention of Don Kirshner at age 16 by going uninvited to his office, bucking her mother in the process. At age 17, she not only winds up writing her first No. 1 hit with Gerry Goffin (Will You Love Me Tomorrow? for the Shirelles) but also getting pregnant and marrying Goffin. They become a legendary writing team, churning out hits for an array of artists, but he also strays from the marriage and is challenged by emotional/drug problems.
As King says in It's Too Late, they "really did try to make it." When she can't shake the notion that she needs Gerry to go on as a song writer because they'd become a team, her mother reminds her of the ambitious, creative girl she was before he came along. That's when she decides to record her own stuff and the iconic album Tapestry is the result.
And this is where the real holding back of tears came for me in the play. Two kids, feeling unloved, your life and professional partner gone. A crossroads. Which path to take? Oh my gosh, does that force a soul searching like no other or what?
How do you not sit there and evaluate your own choices as this unfolds?
Carole King's path is not my path or your path. Our mission here, should we choose it, is to make our way with what we've been given. And sometimes, if we pay attention, others' stories can help inform and spur on our own. Maybe they even prompt us to do the opposite. Something.
There is a point early on where Kirshner challenges his writing teams – that's King-Goffin and Barry Mann-Cynthia Weil – to craft a song for the Shirelles. While the King-Goffin song wins out, the Shirelles aren't convinced. They tell Carole and Gerry it's a little too country. Carole, thinking on her feet, offers to compose a string section for it pronto. When they agree to that, Carole walks out the door and heads for the library to find a book on how to orchestrate for strings.
This may have been the most instructive part of the whole story. We've all had those moments when it comes down to admitting you haven't a clue or winging it and trying to figure it out. In this case, winging it resulted in a No. 1 hit that spoke to millions.
There are moments when you want her to leave the marriage, just get out, stop the hurt. But in reality, we're only onlookers and not the ones in love and in a committed relationship. She gets out when she's ready and we wind up cheering her for that. We have seen the good and the bad and the tone it has all set for her life. It is now context for songs we have heard so many times, songs that seem one hundred times more meaningful with their backstory.
There is a point where King emerges and Tapestry is a hit and she is about to play Carnegie Hall. Goffin visits her backstage and says he's sorry. They hadn't seen each other in years. She is gracious. I'm enraged at the risk he takes, potentially upsetting her before a pivotal performance.
Later, when I share this with my friends as we leave the theatre, one says, "But she wasn't that kind of person."
That's exactly right. Instead, her words and music went thus:
You've got to get up every morning with a smile on your face
And show the world all the love in your heart
Then people gonna treat you better
You're gonna find, yes, you will
That you're beautiful as you feel
Got it, Carole.
Write through the pain. Write through the love. Write.