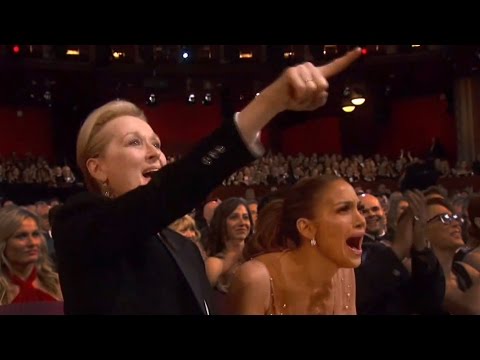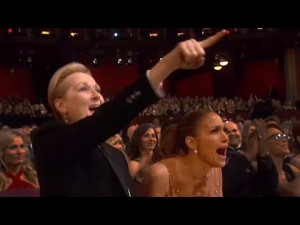 She had me at Meryl Streep jumping out of her seat.
Yes, Patricia Arquette, who had Jennifer Lopez beaming and Shirley MacLaine rocking back and forth in a fit of applause.
I can't explain how I knew we were in for something special based solely on the fact that she carried to the stage a piece of paper in one hand and reading glasses in the other, but I did. Because, let's face it, even the most intelligent among us wouldn't want to mess with the glam outfit by donning glasses on-stage in our Oscar acceptance moment.
She was different. Heck, hours earlier she tweeted this:
No time 4 a manicure this morning was launching our @chideo sweepstakes to win an experience with me (it linked here).
Raise your hand if you'd consider attending – let alone accepting an award at — the Oscars without a manicure. Kindly note my hand is not raised.
To this moment, the afternoon following the Oscars, I don't know who Arquette was wearing. And trust me, I usually care. She took Reese Witherspoon's #askhermore hashtag campaign to another level. Sure, it was meant for the red carpet to encourage more than "you look skinny" comments from interviewers, but it has bigger implications and applications, doesn't it?
Ask her more. Go ahead. But step back and give her some room.
I am not one who is steeped in Hollywood connections at all, but it seems to me that since the Sony breach revealed the pay discrepancies broken down by gender on American Hustle, the industry has been conspicuously quiet on the topic. At least in public. Given that context, it seemed brave and generous for Arquette to use the time and the platform, her moment, so to speak, to stand up for equal pay.
"To every woman who gave birth to every citizen and tax payer of this nation, we have fought for everyone else's equal rights," she said. "It's our time to have wage equality once and for all and equal rights for women in the United States of America."
As her voice escalated, we all sat up a little straighter, even on our couches. The audience eruption spoke for itself.
Each year as The Academy Awards broadcast unfolds, we learn who we are as viewers. What resonates. What we latch on to. What makes us bristle. What makes us laugh or cry or get ticked off.
For me, Oscars 2015 was about expressions of unbridled authenticity and passion around staying the course. Arquette was energizing. Common and John Legend were poignant in their acceptance speeches.
"Nina Simone said it is an artist's duty to reflect the times in which we live," Legend said. "We wrote this song for a film that was based on events that were 50 years ago, but we say that Selma is now because the struggle for justice is right now. We know that the Voting Rights Act that they fought for 50 years ago is being compromised right now in this country today. We know that right now the struggle for freedom and justice is real."
We cannot separate artists from causes. It is what forms and fuels the art. It is what makes the art relatable and powerful. Safe doesn't cut it. Polite can be a lie.
This brings me to Graham Moore, who won for Best Adapted Screenplay (The Imitation Game) and brought this in his acceptance speech:
When I was 16 years old I tried to kill myself because I felt weird and I felt different and I felt like I did not belong. And now I'm standing here. So I would like this moment to be for that kid who feels like she's weird or she's different or she doesn't fit in anywhere. Yes, you do. I promise you do. Stay weird. Stay different. And then when it's your turn and you are standing on this stage, please pass the same message to the next person who comes along.
Is it just the artists among us who find that to be like a salve? Who see the courage it took to say?
And then there's this — I think weird and different, I think Lady Gaga. She has thrived in that 'not fitting in' place since she came into our consciousness. Her music from that space has gotten me through more workouts and anger fits than I can count.
But when her name was brought up in the same breath as The Sound of Music and a 50-year tribute, I admit I was tense. Please don't bring 'weird' to that classic film. For many of us this is a childhood touchstone. It's pure.
Well, we got pure right down to a white dress and impeccable hair and makeup. We got pure in voice and sincerity. No gimmicks.
I think we witnessed a birth. This is not a knock on who Lady Gaga has been since she came on the music scene. I've appreciated her artistry and her message for a while. But I felt like she shed a mask at the Oscars, one that had already been lifting in her work with Tony Bennett. We saw another side, one that she was ready to unveil. She turned 'weird and different' upside down. Might it have something to do with her recent engagement and having someone standing deeply in her corner?
In that moment, she didn't stand for anything but bringing her pipes and sensibility to a classic medley. She showed range, the good kind of restraint, and sentimentality for a storied piece of American culture. And it doesn't mean she won't go back to weird and different, but if she does it will be with a wink and a nod. We know now. The genie is out of the bottle.
We witnessed a shining performance that resulted in a standing ovation, a singer's eyes wet with tears.
A cool contrast to Arquette's audience eruption, yet similar in that they both evoked a response that came from a place of surprise.
Bravo for anything that makes us jump out of our seat.