The last few weeks I've been having casual conversations with women about Alexandria Ocasio-Cortez. Most are left leaning and 20 years (or more) older than the Congresswoman.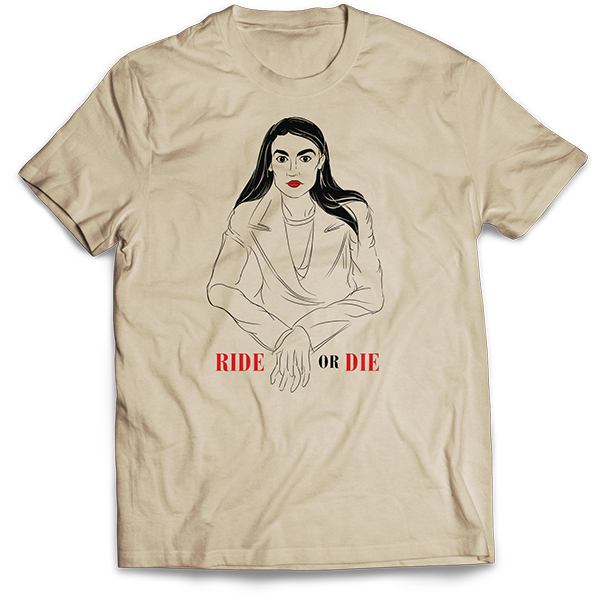 "Sometimes I feel like I'm fighting my urge to be the 'get off my lawn' curmudgeon," I told one friend.
Her response was a knowing, if surprised, laugh.
What I meant by that was my initial, most visceral reaction to a 29-year-old expressing herself with confidence was to not like it. I'm happy to say I didn't dwell there, but I'm self-aware enough to know when to take a look and go a little deeper.
Ocasio-Cortez, or AOC as she's come to be known, is smart, dynamic, and seemingly fearless in the political arena. She has jumped into the job with vigor, doesn't hesitate to put her ideas into the mix, and perhaps most impressively, isn't shy about thinking big. The life coach in me responds to that in a way that shuts down my inner curmudgeon instantly.
Because you know what? Somewhere along the way, a lot of the women in my generation stopped believing big ideas are possible or even worth introducing. This may read as a knock, but it's not. It's more a comment on how worn down so many of us are from fighting the good fight. We've persevered. We've been patient. In some cases we've morphed into beings who, by rote, bend to the will of men in the workplace more than we'd like.
What I've just begun to realize is that the women coming up behind us don't want to fight. Maybe a few years ago I would have criticized them for that, but now it is starting to dawn on me they have this right. The way was cleared by my generation and ones before mine to go out there and get the job they wanted. Yay, no more obstacles!
But then they did and once inside the doors they met with a different reality than they expected. In fact, workplaces aren't as diverse, open, or fair as they were led to believe. Instead, they saw older women acclimating to men's management styles in order to fit in, sometimes contorting themselves until they had glossed over their own ideas and ways of doing things. They often felt lucky to be at the table regardless of their credentials. Perhaps not intellectually, but in practice.
Looking at it through the lens of the young women coming up, the power shifts have been glacial. While our mantra has been, be patient, wait your turn, theirs is not. They've been told they can be whatever they want and that their viewpoint counts as much as anyone else's and damn if they're not showing us how that looks.
To this 57-year-old, it suddenly looks glorious. Like, why-can't-I-be-as-bad-ass-as-you glorious.
How did I get to this place? By paying attention. I'm good at that.
First, the AOC Tweets and Instagram posts. Then seeing how she conducts herself in her job. If my visceral reaction was resistance, it has made way for admiration. Members of Congress shouldn't get paid during the shutdown? Yes, Congresswoman. You make a good point.
I have seen people respond to her on social media with praise about how they've learned more about the workings of government in the short time she's been in Congress than they ever knew before. She makes it accessible. Look at this Tweet:
"In my on-boarding to Congress, I get to pick my insurance plan. As a waitress, I had to pay more than TWICE what I'd pay as a member of Congress. It's frustrating that Congressmembers would deny other people affordability that they themselves enjoy. Time for #MedicareForAll.
What's to argue with?
In the now infamous C-SPAN clip that many, including James Corden, re-Tweeted of Ocasio-Cortez in an Oversight hearing about voting rights and the role of money in politics, she suggests "a game" with the expert witnesses and powerfully points out by playing "the bad guy" how flawed our system is. It's a clear, gutsy five-minute exchange.
"So I'm being held — and every person in this body is being held — to a higher ethical standard than the president of the United States?" AOC says to a yes from the experts.
As one of the women in white at the State of the Union, she got a little Twitter smack from none other than an elder in the political swirl that is Washington, D.C., columnist Peggy Noonan:
"And good natured with the white jackets, who I see some on twitter are calling the straight jackets. AOC had a rare bad night, looking not spirited, warm and original as usual but sullen, teenaged and at a loss."
AOC's response:
"Why should I be 'spirited and warm' for this embarrassment of a #SOTU? Tonight was an unsettling night for our country. The president failed to offer any plan, any vision at all, for our future. We're flying without a pilot. And I'm not here to comfort anyone about that fact."
I'd be hypocritical to rip Noonan hard for this given the context of this column, right? In a sense she expressed what I just copped to resisting in myself the last few months. But she was being a curmudgeon here and the reason I see that is because I understand the impulse.
However, I'm proudly making a conscious shift out of the "wait your turn, young lady" mentality.
"Sitting pretty has never gotten us a better world. Never has, never will. So buckle up and resolve yourself for good trouble," Ocasio-Cortez writes in a December 2018 Instagram post.
Duly noted. I like the sound of good trouble.
(Editor's Note: To order the AOC t-shirt pictured, go here.)